Please note that all our retreats will run only if there are sufficient registrations. The closing date for registrations is one week before the retreat starts. Click here to find out how to register.
February 2018
Yanai Postelnik will be offering a summer retreat. Having grown up in New Zealand Yanai now teaches predominantly overseas and is based at Gaia House in the UK. Through his regular visits home we have been lucky over the years to have him teach with us bringing the opportunity for a profound depth of practice.
Yanai will be assisted by Julie Downard and Di Robertson.
Date: Friday 2nd February – 11th February, 2018
Venue: Staveley Camp – How to get to Staveley
Cost:

$360 ($180*) sliding scale, (*subsidised places available) 9 days
$215 ($110*) sliding scale, (*subsidised places available) 4 days

Please indicate on  registration form which option you are registering

Registration: Please fill out RegisterYanaiFeb2018 (PDF) and email to Southern Insight. 
Teacher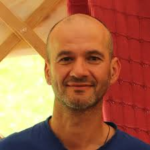 Yanai has practiced and studied Insight meditation and Dharma teachings in Asia and the West. He leads retreats in Europe, Israel, Australia, New Zealand and the USA. Originally from New Zealand, he lives in Devon, England, and is a member of the Gaia House Teacher Council. Yanai also served one year as a resident teacher for the staff at Insight Meditation Society in Barre, Mass. USA. He has also led various courses combining meditation and silence with being in nature, which he finds to be a wonderful combination.
*Costs: Retreats and courses are set to be as affordable as possible. A sliding scale or subsidised rates for those on a limited income is available.
For more information, please email: Southern.Insight.Meditation@gmail.com
Future Retreat Events for 2018 – 2019
In 2018/19 we will be very lucky to welcome a wonderful mix of local and international teachers to run retreats with Southern Insight.
In Spring 2018:  We also welcome back our much loved teacher Subhana Barzarghi who will be running a week long retreat in late September with Julie Downard (Sept 28th – October 5th, 2018)
In January 2019:  We will be holding a Dharma Gathering with its unique format of workshops and formal practice. Jeremy Logan, who has been a wonderful and wise guide to many Southern Insight folk over many years, and Subhana Barzarghi will be two of the leading teachers for this event.
Southern Insight Meditation is a nonprofit, non-sectarian group run by volunteers with the aim of making available the teachings and practice of Insight (Vipassana) Meditation through retreats, courses and talks. We are also a charitable trust and donations are tax exempt.